Experience and Awards
2015 Pulitzer Prize for breaking news reporting, with Seattle Times staff
I contributed to the coverage that won The Seattle Times staff the Pulitzer Prize for breaking news reporting in 2015. For more on what that experience was like, read my Q&A with the Las Vegas Sun and UNLV News.
Content Designer – Uber Technologies
September 2021 - present
I lead content strategy and UX writing on the Uber Eats team, advocating for end users of our platform. I collaborate with design, product, and user research teams, helping build the best user experience for delivery and mobility.
Content Strategist and Storyteller – Two Twelve
March 2021 - August 2021
I originated a content role with Two Twelve, a group that specializes in wayfinding and public information design. That included:
Redefining the nomenclature and content approach for the 40-year-old company, with a focus on acquiring new talent and growing our client base.
Collaborating with designers, our marketing lead, and the firm CEO to overhaul the website and position Two Twelve as a future-focused company.
Translate architecture and UX jargon into language that makes sense to and resonates with our clients.
Working on client projects with the Obama Foundation, Mass General Hospital, and others.
Content Strategist/Site Editor – Metropolitan Transportation Authority
December 2019 - March 2021
I was on the digital services team at the MTA, where we worked to make new.mta.info and the MYmta apps more rider-centric. We were the first in-house team to manage distinct digital products, following a long-established workflow of depending on contractors for this work.
At the MTA, I:
Worked across the 74,000-person organization to create content that was rider-centered while still being highly accurate, complete, and within legal and compliance standards.
Wrote and enforced the MTA's first digital style guide.
Won over MTA lifers who were very skeptical of change.
Regularly advised VP-level executives on strategy.
Content Lead – The COVID Tracking Project
May 2020 - May 2021
During my time at The COVID Tracking Project, I:
Was the organizational linchpin for the design, engineering, research, UX, data, and PR teams.
Wrote UX copy that was clear, precise, accurate, and consistent.
Expanded the house style guide and governance process for copy.
Optimized editing workflows without sacrificing quality.
Implemented a modular approach to content in the CMS to make publishing faster.
Strategically audited and reorganized the structure of the website as it doubled and then tripled in size.
Committee Head for the DEI Coalition for Anti-Racist, Just, and Equitable Newsrooms – OpenNews
October 2020 - February 2021
I led a group of 20 people to define and launch dedicated Slack workspaces as part of the coalition's mission. This included:
Using emotional intelligence to discuss topics including racism, sexism, and privilege.
Designing and running meetings and workshops.
Coordinating asynchronous work.
Collaborating with three other committee heads.
Helping build the vision of the coalition.
Production Editor — ProPublica
January 2018 – December 2019
I managed ProPublica's high-performing story production team, a great joy in my career so far. In that role, I also:
Managed complex editorial projects that involved every team in the newsroom.
Oversaw daily story and newsletter production.
Ran the organization's editorial calendar and editorial meeting. continually evaluated tools and processes to ensure smooth publishing workflow.
Assembled cross-team, collaborative groups to execute large editorial projects.
Worked with ProPublica's platform team to develop and test new features for the site and CMS.
Was often described as unflappable, even under non-negotiable deadlines.
Was the final quality check on ambitious investigations where mistakes were unacceptable.
Lead Producer — ProPublica
March 2017 – January 2018
I supervised ProPublica's growing team of web producers, ensuring that daily publishing ran smoothly. I also:
Planned and executed special projects.
Coached producers on hiring freelance photographers and editors.
Continued to oversee documentation efforts.
Web Producer — ProPublica
September 2014 – March 2017
In my first role at ProPublica, I:
Found visuals for and published stories to ProPublica.org.
Worked with the design director on the general look and feel of the site.
Selected photos for stories from wire services.
Created vector illustrations.
Hired freelance photographers and illustrators.
Copy-edited stories when time allowed.
Associate Producer — The Seattle Times
August 2012 – August 2014
Being on the Seattle Times digital team is what launched my career in digital products. While I was there, I:
Handcrafted web headlines and summaries for readability and SEO.
Selected photos and other visuals to feature on the Seattle Times homepage.
Taught myself HTML and CSS so I could design and create special layouts for big projects.
Trained many people throughout the newsroom on digital tools and strategy.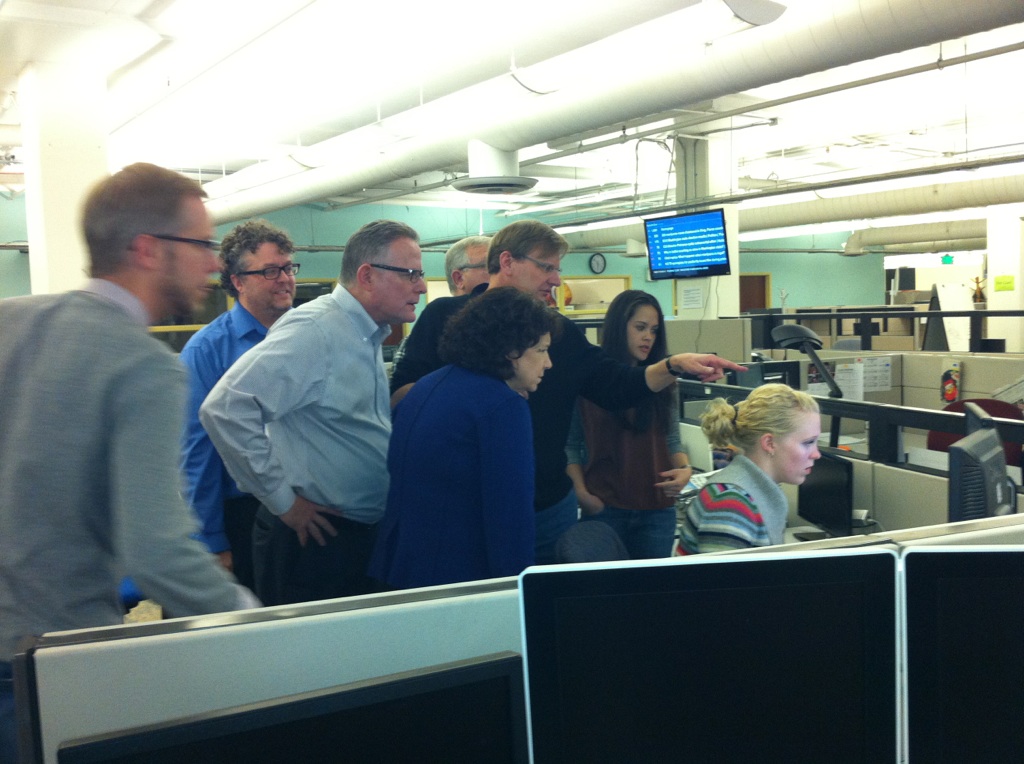 Copy-Editing Intern — The Seattle Times
June 2012 – August 2012
As an intern on the news desk, I:
Copy-edited stories.
Wrote headlines.
Coordinated with the person running the website to make sure web metadata for each story was correct.
Education
University of Nevada, Las Vegas
Bachelor of arts in journalism and media studies; summa cum laude
Dean's list, 2008-2012
Brian Greenspun and Ned Day Memorial scholarships
Member of Phi Kappa Phi and Kappa Tau Alpha honor societies