Experience and Awards
2015 Pulitzer Prize for breaking news reporting, with Seattle Times staff
I contributed to the coverage that won The Seattle Times staff the Pulitzer Prize for breaking news reporting in 2015. For more on what that experience was like, read my Q&A with the Las Vegas Sun and UNLV News.
Content Strategist/Site Editor – Metropolitan Transportation Authority
December 2019 - present
I'm on the digital services team at the MTA, where we work to make new.mta.info and the MYmta apps more rider-centric. We're the first in-house team to manage distinct digital products, following a long-established workflow of depending on contractors for this work.
I write, edit, and oversee the creation of content on the MTA site, with a focus on helping our readers get the information they're looking for. I work with developers on new features for the site and CMS, and I strategize around content and design with our UX designer and product manager. I also meet with stakeholders across the 74,000-person organization to gather requirements, manage expectations, and deliver exceptional products.
Content Lead – The COVID Tracking Project
May 2020 - present
I work with the editorial and development teams to write UX copy that is clear, precise, accurate, and consistent. I advise on sitewide content strategy and the development of new CMS features. I also occasionally edit stories and blog posts.
Committee Head for the DEI Coalition for Anti-Racist, Just, and Equitable Newsrooms – OpenNews
October 2020 - present
I lead a group of 20 people to define and launch dedicated Slack workspaces as part of the coalition's mission. This includes designing and running meetings, coordinating asynchronous work, collaborating with three other committee heads, and helping build the vision of the coalition.
Production Editor — ProPublica
January 2018 – December 2019
I managed ProPublica's story production team and oversaw daily story and newsletter production. I ran the organization's editorial calendar, with our managing editor and standards editor, and continually evaluated tools and processes to ensure smooth publishing workflow.
I assembled cross-team, collaborative groups to execute large editorial projects. And I worked with ProPublica's platform team to develop and test new features for the site and CMS.
I also hired and art-directed freelance photographers and illustrators, and I coached story producers on the same.
Lead Producer — ProPublica
March 2017 – January 2018
I supervised ProPublica's growing team of web producers, ensuring that daily publishing ran smoothly. I helped plan and execute special projects, coached producers on hiring freelance photographers and editors and continued to oversee documentation efforts.
Web Producer — ProPublica
September 2014 – March 2017
I found visuals for and published stories to ProPublica.org and worked with our design director, David Sleight, on the general look and feel of the site. I chipped in on photo and vector illustrations and hired freelance photographers and illustrators as needed.
I also helped organize ProPublica's digital tools and generally handled whatever on the site needed doing. And I happily served as an on-demand copy editor when time permitted.
Associate Producer — The Seattle Times
August 2012 – August 2014
I curated headlines and photography on the Seattle Times homepage, choosing photos to feature and handcrafting web headlines and summaries. I worked with editors and section producers on story play, and I designed and produced special layouts for big projects. I also edited wire stories and managed social media accounts as needed.
I trained several new producers to run the homepage and often helped reporters and editors with WordPress, Twitter, Tweetdeck and other digital tools.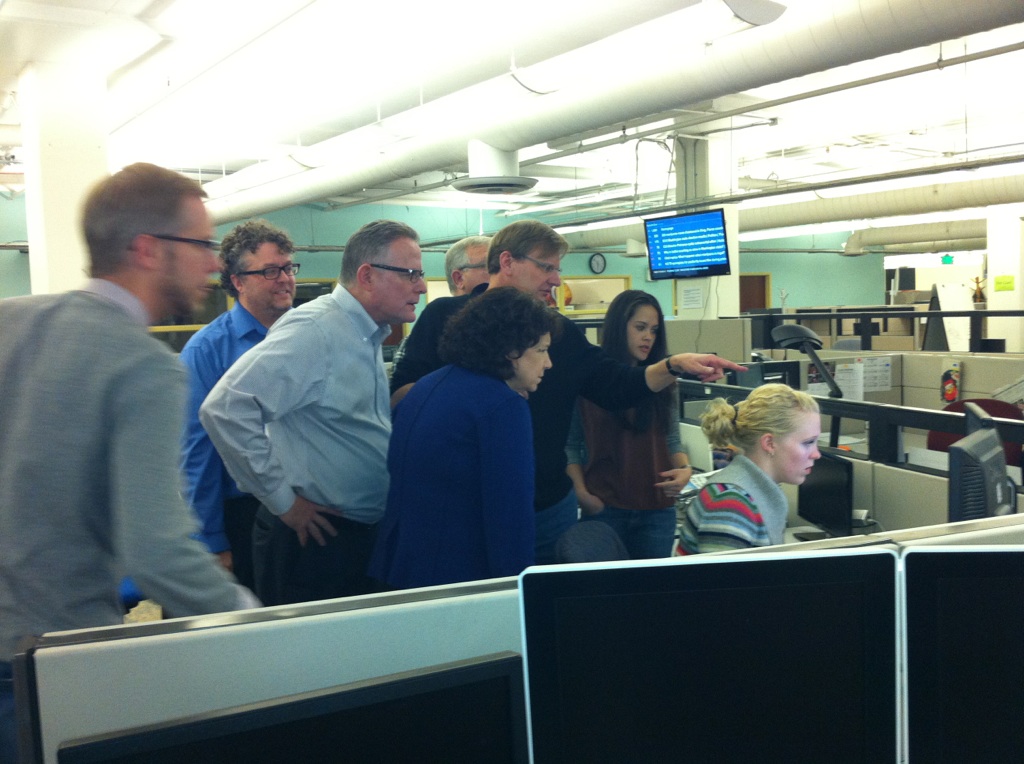 Copy-Editing Intern — The Seattle Times
June 2012 – August 2012
As an intern on the news desk, I copy-edited stories, wrote headlines and followed up with the homepage producer on duty to make sure web metadata for each story was correct.
Editing, Reporting Intern — Stephens Media
August 2011 – April 2012
I edited blog posts and calendar entries for the Best of Las Vegas website and occasionally wrote stories on Cirque du Soleil and other parts of the entertainment industry.
Do-All Intern — Channel Signal
May 2011 – August 2011
At Channel Signal, a social-media-monitoring company in Park City, Utah, I sifted through thousands of social-media posts a day and worked with an analyst to extract insight for clients. I created monthly reports for clients in Adobe InDesign, wrote and edited blog posts and researched new digital tools.
Wearer of All Hats — Las Vegas Dance Insider
September 2010 – May 2012
I maintained my own blog about the dance scene in Las Vegas for two years in college. I reported on events, wrote reviews, shot photos, handled blog production … and aced all my classes. A favorite post of mine: What it's like to audition for Cirque du Soleil
See the blog
Freelance Reporter — Desert Companion magazine, QVegas Magazine, more
June 2010 – May 2012
General news, some arts writing.
Sample clip: The art of commerce (Desert Companion magazine)
Senior Copy Editor — The Rebel Yell
May 2010 – November 2010
I edited copy and worked with section editors on headlines for the semiweekly undergrad student newspaper at the University of Nevada, Las Vegas.
Staff Writer — The Rebel Yell
October 2009 – April 2010
Covered general news and features
Education
University of Nevada, Las Vegas
Bachelor of arts in journalism and media studies; summa cum laude
Dean's list, 2008-2012
Brian Greenspun and Ned Day Memorial scholarships
Member of Phi Kappa Phi and Kappa Tau Alpha honor societies